School Production
The school production is held bi-annually and involves all Holy Rosary students. It is held at the ClockTower in Moonee Ponds and all families have a ticket allocation to attend.
Art Show
The Art Show is held bi-annually and all Holy Rosary students P-6 exhibit art work at this event held in Mercy Hall. Families and guests are invited to attend the Art Show.
Chess
Chess lessons run each Tuesday during 1st lunch. These lessons are available to students in Year 2-6. Enrol here.
Sporting Events
Each year Holy Rosary holds an Athletics Carnival which involves sprints, relays and a variety of rotational activities. Students enjoy healthy competition between House Teams: MacKillop, Sion, McAuley and Hennessy.
Year 6 students participate in interschool sports during the Summer and Winter seasons.
Some students have the opportunity to participate in sporting carnivals and events at a District or Regional level, after qualification.
Music Tuition
Students can participate in individual or small group music tuition. Instruments include piano, drums, guitar, brass and singing. Theses students also participate in our instrumental band. These lessons incur an additional charge. Enrol here.
Speech and Drama
Speech and Drama lessons are a fun and dynamic way of building students' confidence in public speaking, communication and performance skills. Speech and Drama lessons aim to improve diction and voice projection, and develop natural expression of the spoken word. Students learn skills such as vocal exercises, storytelling, improvisation, presentation skills and drama. Fun, relaxed examinations are undertaken as part of this program in November of each year. These lessons incur an extra charge. Contact the program coordinator Robyn Schiller  at robynschiller48@gmail.com
Swimming
Prep-Year 2 students participate in a Water Awareness Program at Kensington Pool. Year 6 students also participate in a program to certify that they can swim 50m. (This is part of Government requirement).

Science Fair – Science Talent Search of Victoria (P-6)
All students are invited to participate in an annual Science Fair. They prepare a project, which they share with their peers before displaying it at the fair. The Science Fair is opened to classes and families to attend in the Mercy Hall. Further, some projects are selected to participate in the Science Talent Search.  We have high levels of participation in these events and many students have been awarded certificates and bursaries in the Science Talent Search. Our school was awarded the Peter Craig Award for the most outstanding independent school in Victoria in 2019 and 2020. In 2021 we had another successful year, being awarded the Hugh McKnight Encouragement Award.
Holy Rosary School Science Fair 2023 information & form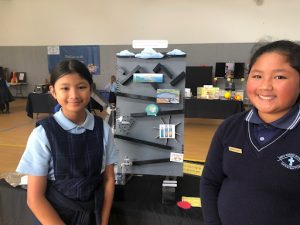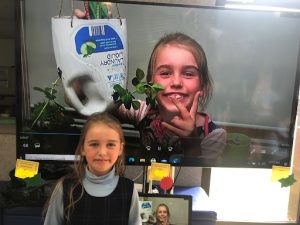 Tournament of Minds (Years 4-6)
We have entered teams over many years with great success. Last year, we entered four teams in TOM; Language Literature, Science Technology Engineering Mathematics (STEM), The Arts and Social Sciences. Our STEM team competed in the State Finals.
Shared Stories Anthology 
The Shared Stories Anthology is a collection of stories and art work that is published and housed in both the State Library and the National Library. Eighteen Holy Rosary students had their work published last year.
Maths Olympiad
A team of Year 5 and 6 students are selected to enter the Maths Olympiad each year.
Art Competition Remembrance Day
Two Holy Rosary students have had their art work recognised in this competition.